Tesoro Viejo Master Plan
PlaceWorks crafted a Master Plan for a new community in unincorporated Madera County, which promotes walkable neighborhoods and stewardship of the local waterways, wetlands, and wildlife.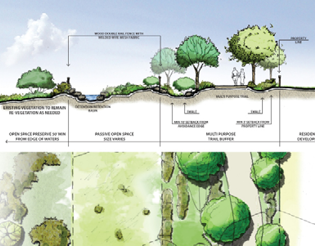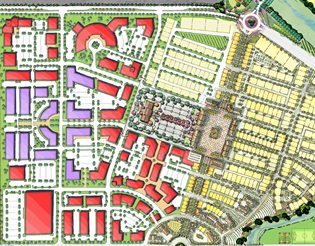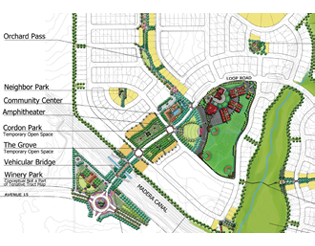 Client
The McCaffrey Group
Location
Madera County, California
Services
Community Participation
Corridor Planning
Landscape Architecture
Site Planning
Open Space & Resource Planning
Graphic Design
Visioning & Strategic Planning
Awards
2023 Master Planned Community of the Year, National Association of Home Builders
2016 Innovation in Green Community Planning Award, California APA, Central Section
In the lap of Little Table Mountain, a landmark visible for miles around, Tesoro Viejo is a beautiful site of gently rolling hills, vistas, fertile plains, and natural and recreational resources that meet at the San Joaquin River. With stunning views of the Sierra Nevada, Tesoro Viejo is conveniently close to Highway 41, making it the premier residential and commercial development for Madera County and extension area for the city of Fresno.
The new, fully contained community is approved and entitled for up to 5,190 homes; 3 million square feet of nonresidential space; 400 acres of recreational open space; and over 15 miles of walking, hiking, and biking trails. A K–8 school was planned for the first village, with a high school in future phases.
PlaceWorks helped craft a plan with walkable neighborhoods and trail access to internal and external open spaces. The plan's commitment and vision led to the unanimous approval of the Hillside Village by the Madera County Planning Commission. This approval set the stage for future healthy and family-oriented communities, and it created high standards and expectations for Tesoro Viejo and the surrounding planned growth area.