Ohlone Greenway Station Area Improvements
As a subconsultant to BKF, PlaceWorks provided urban design, outreach, and landscape architecture services to renovate two segments of the Ohlone Greenway for safer access to the BART stations and a consistent sense of place with each station.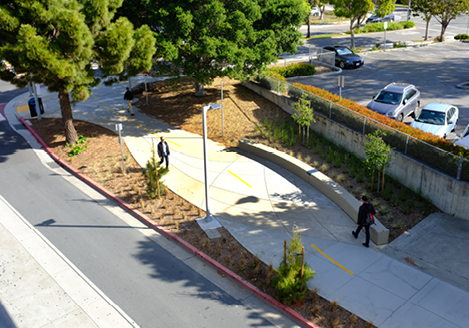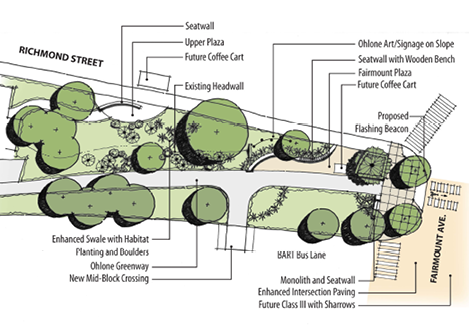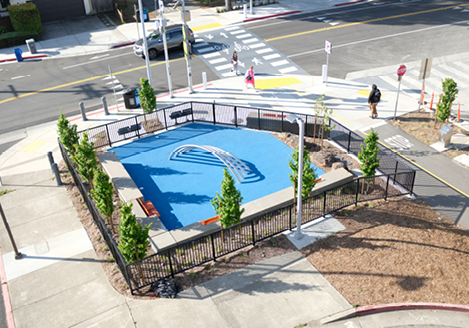 Location
El Cerrito, California
Services
Community Participation
Active Transportation Planning
Healthy Communities
Urban Design
Transit Planning & Design
Landscape Architecture
The Ohlone Greenway is a 4.5-mile, multimodal, asphalt trail between Berkeley and Richmond. It passes both BART stations in El Cerrito, which were scheduled for renovation.
This project's goals were to improve bicycle and pedestrian routes to transit, commercial nodes, and residential areas; foster new housing development; and increase safety and accessibility at the two stations. The Del Norte BART Station is the northern gateway to El Cerrito and the mixed-use commercial areas along San Pablo Avenue. The adjacent segment of the greenway will be a formal urban promenade with geometry that reflects the station's new aesthetic and materials. Gathering plazas include custom seat walls with integral benches and a sculpture/exercise element surrounded by a colorful grid of safety surfacing.
The El Cerrito Plaza BART Station is the southern gateway to El Cerrito's entertainment district. Cerrito Creek and its new nature-play areas nearby inspired this area. Flowing patterns and native plantings are juxtaposed with more formal geometries and ornamental grasses. Site furnishings are playful and inviting, with curvilinear forms and a mix of precast concrete and stainless steel. The meandering, colorful paving patterns break up the larger paved area, allow easy commuter circulation, define a sense of place, and provide spots for coffee carts and other vendors.