Jurupa Valley Truck Restriction Ordinance EIR
This high-profile project restricted trucks in one area of Jurupa Valley and was the outcome of a lawsuit that ultimately sparked the inclusion of environmental justice elements in general plans.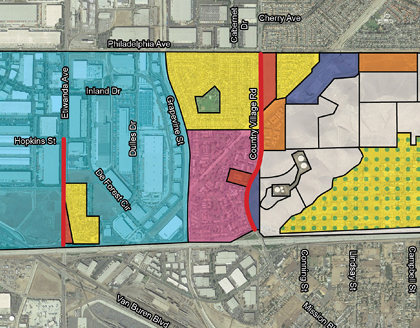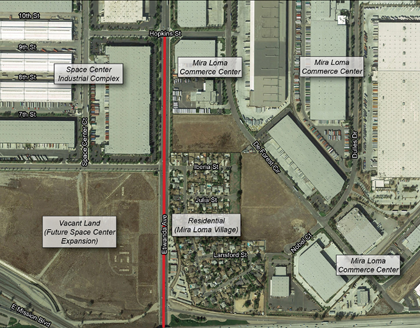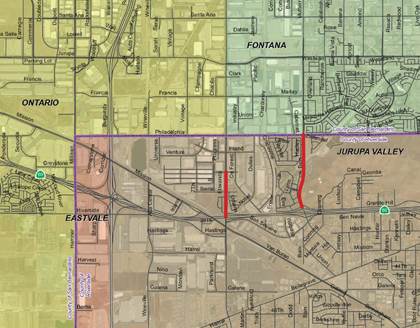 Client
City of Jurupa Valley
Location
Jurupa Valley, California
Services
Air Quality & GHG
Noise & Vibration
CEQA/NEPA Compliance
Risk Assessments
Healthy Communities
Environmental Justice
Awards
2020 Environmental Analysis Award of Merit, California AEP
Before PlaceWorks became involved with this project, Riverside County approved the Mira Loma Commerce Center, a warehousing and distribution facility that was adjacent to residential uses. The Center for Community Action and Environmental Justice (CCAEJ) subsequently filed a lawsuit against the County and the City of Jurupa Valley, which had incorporated after the project was approved and became a party in the settlement agreement.
The City conducted traffic, noise, and air quality studies to evaluate the potential impacts of adopting an ordinance to restrict trucks heavier than 16,000 pounds from the part of Etiwanda Avenue adjacent to Mira Loma Village. The initial evaluation found that the ordinance would divert truck traffic to other sensitive residential areas in Jurupa Valley and affect the surrounding jurisdictions of Ontario, Fontana, and Eastvale.
The City hired PlaceWorks to fully evaluate impacts in an EIR, with air quality/GHG, noise, and health risk analyses. PlaceWorks quantified operational air pollutant and GHG emissions from passenger vehicles and trucks using vehicle emissions data from the EMFAC2017 database and traffic data from the traffic consultant. The net changes in air pollutant and GHG emissions represent the difference in vehicle trips and vehicle miles traveled after the change in travel patterns; the emissions changes were compared to the applicable significance thresholds.
The health risk assessment evaluated how risk levels along various roads would be affected, and whether the ordinance would create new health risks for residential and worker receptors along those roads. At the final hearing for this challenging project, the audience was standing room only and gave its full approval to the truck restriction ordinance and EIR.