Iris Chang Park
PlaceWorks provided master planning, landscape architectural design, and construction documents for a new 2.5-acre memorial sculpture park in North San Jose.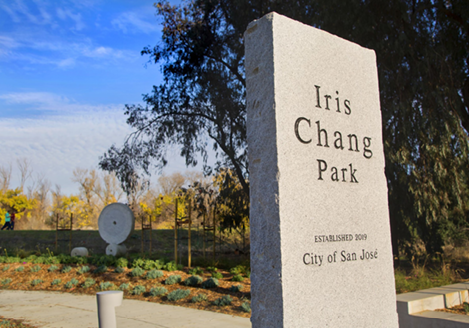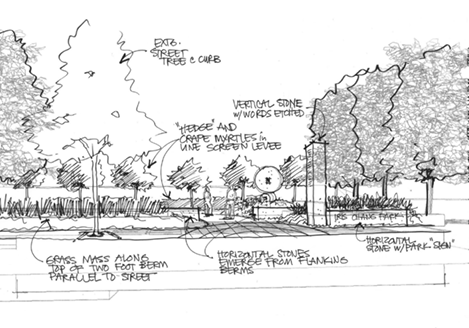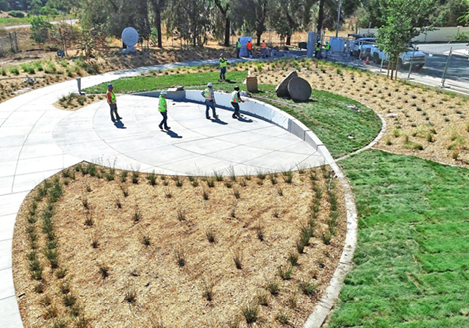 Location
San Jose, California
Services
Community Participation
Landscape Architecture
Open Space & Resource Planning
Park Planning
CEQA/NEPA Compliance
The park is named after Iris Chang, a Chinese-American journalist and author, who wrote the bestselling book, The Rape of Nanking, which covered atrocities committed in China by the Japanese army, a forgotten holocaust of the Second World War. PlaceWorks worked closely with the community, as well as with Ms. Chang's parents, in shaping the vision for the park, which includes a series of monumental stone sculptures created by the artist Richard Deutsch.
The site is adjacent to Coyote Creek Trail and the new path system includes an accessible connection from the park and adjacent neighborhoods up to the trail, which runs along the top of a levee. The grading required to bring users from ground level to the trail provided inspiration for exuberant curves in path layout and in earth form, allowing the landscape to have a sculptural form of its own.
The park design includes a dynamic planting plan made up of grasses of various textures and sizes arranged in concentric and undulating waves. These textures and forms, combined with the stone sculptures, create a contemplative environment for visitors to consider Iris Chang's legacy. PlaceWorks' CEQA staff also completed the Initial Study/Negative Declaration necessary for the project.