Brea Connecting the Core Active Transportation Plan
PlaceWorks collaborated with the City of Brea on this award-winning active transportation plan, which envisions a fully connected transportation network of complete streets in the city's core.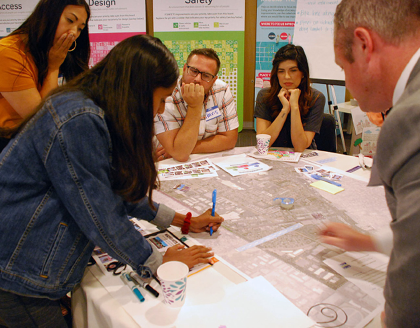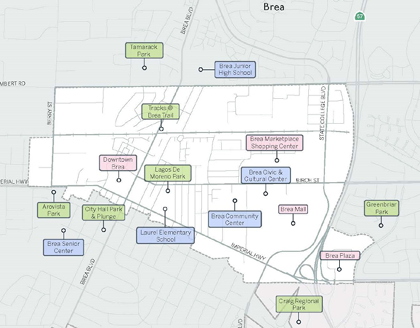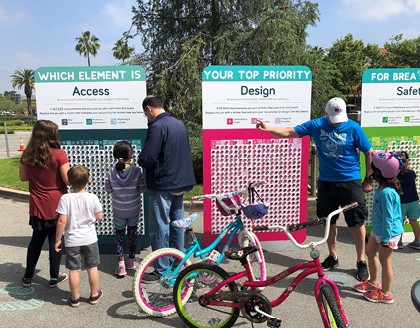 Services
Community Participation
Active Transportation Planning
Healthy Communities
Urban Design
Transit Planning & Design
Graphic Design
Awards
2021 Transportation Planning Award of Merit, California Chapter APA
2021 Transportation Planning Award, California APA, Orange County Section
2021 Public Outreach Award of Merit, California APA, Orange County Section
The process for preparing Connecting the Core emphasized public engagement to ensure that walking, biking, and transit improvements reflected the community's needs. Via in-person activities and an online platform, residents submitted recommendations and provided feedback as the network developed. In-person events included a kick-off workshop, a community design charrette, pop-up events that were hosted throughout the city, multiple technical working group meetings, Safe Routes to School activities, and a draft plan workshop. Public engagement activities were varied to ensure that input was diverse and that multiple community members were engaged—such as businesses, decision-makers, and neighboring communities.
The pop-up activities were a key source of input, with interactive and colorful boards that attracted attention at events and locations throughout the city. The first round of boards aimed to get a sense of the access, design, and safety features preferred by the community. The second round solicited input on infrastructure improvements developed during the design charrette for key corridors. The plan presents goals, policies, and actions tailored around the guiding elements of access, design, and safety and ties the policy framework to community input and themes used at outreach events.